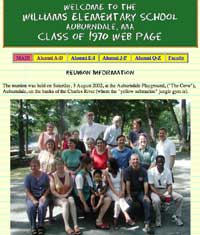 For, and after my Elementary school reunion, I created and maintain this website allowing alumni and former faculty to stay in touch with each other. Creating this site, and the event, required a good deal of on-line research, including tracking down people that hadn't been in touch with each other for over 30 years.
The design of the 29 page site harkens back to school days, using chalk-on-blackboard captions and a ruled paper background. Then-and-now photos, biographies, contact information, and school trivia are also available.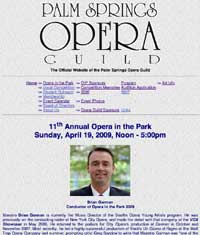 Inherited Websites

A number of the websites I maintain are "inherited"; someone else did the original design and coding, but for one reason or another is no longer maintaining or improving the site for my clients.
In circumstances where I inherit a website, I assume responsibility for the site, and, depending on the client's wishes, will either rework or redesign the site, or leave it as-is, only adding to or modifying it as required.
In many cases I am able to simplify the code to make the site faster and more managable. I have guided my clients so that their sites have been able to evolve beyond the vision they had when the site was first developed.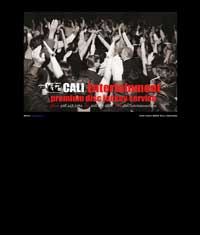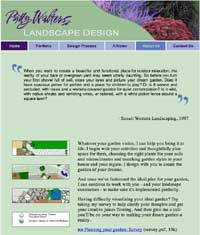 Reverse engineering someone else's code, especially in a case where they were using some unknown WYSIWYG editor, will often present challenges not normally seen when designing a site from scratch.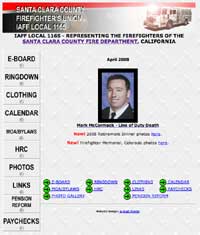 No Longer Active

A number of my client sites are no longer active. These include:
The website for the Santa Clara County Firefighters Local 1165;
An enrollment site for a course offered by the Matriztica Institute;
A site for a now-retired opera singer Andrew Eisenmann;
An interim Jobs Posting site for Hope Services, Inc.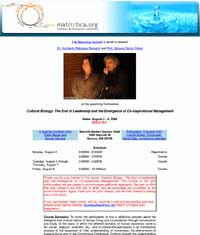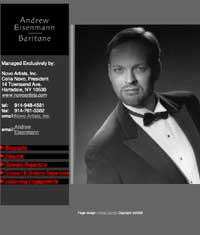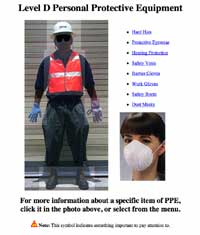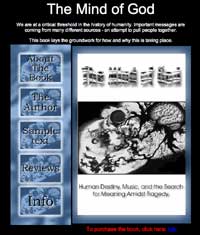 An intranet site for Locus Technologies site, with information for employees about required Personal Protective Equipment (PPE);
an inherited site for the book The Mind of God, maintained for the book's author;
a site for the former ART of Living Institute;
Tree Solutions, an inherited site maintained for an Arborist.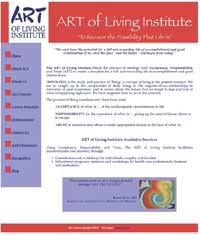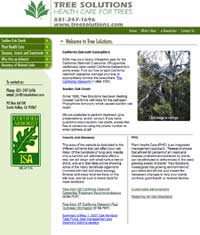 A proposed site for an Institute in memory of an opera singer;
a site for the restoration of Campbell's Rescue 25 paramedic truck; when the restoration was completed, the vehicle and site were turned over to the Campbell Historical Museum;
a site for the now-retired manager of opera singers and musicians, maintained for over 13 years.